Aluminum airline food container and tray making machine
Product Detail
Product Tags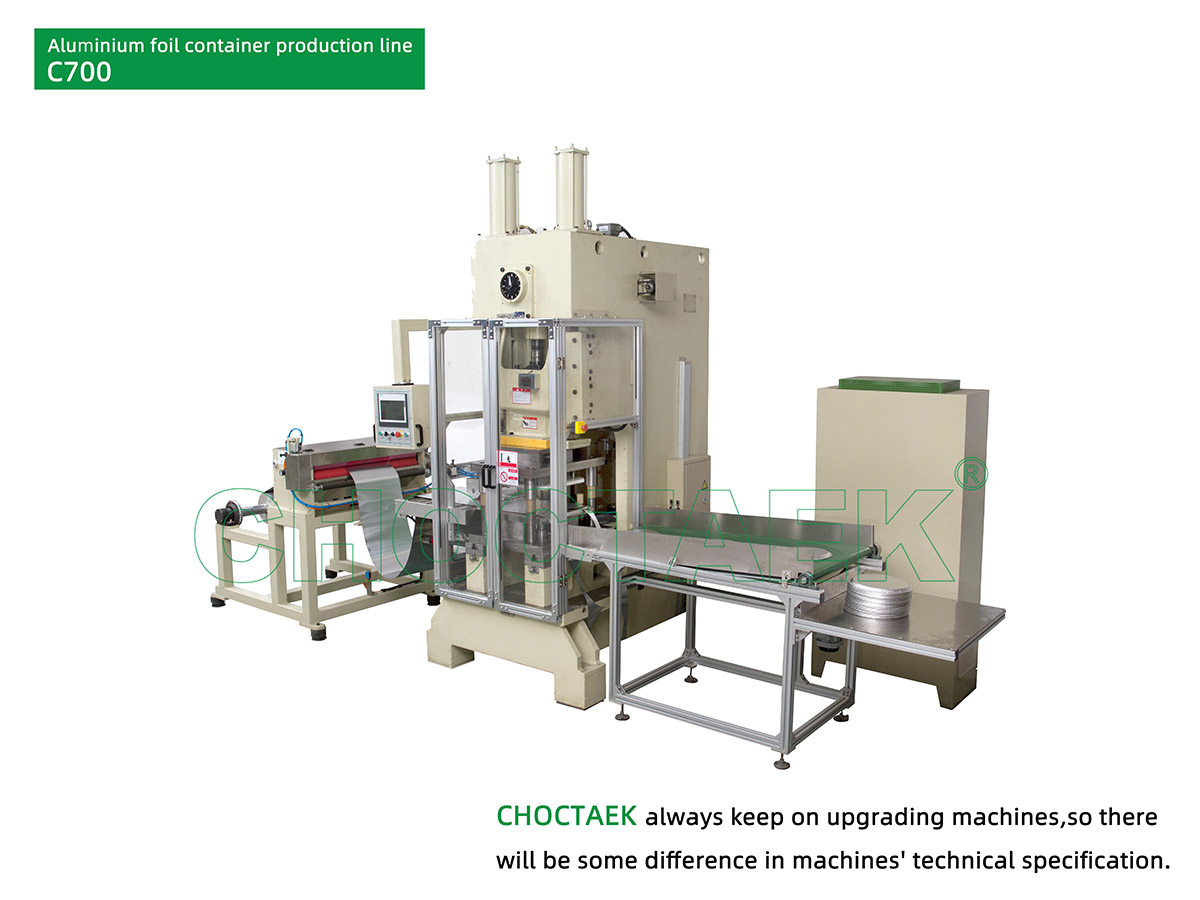 1. Fully automatic aluminum foil tray making machine is a production line,it is included:
1.1 Auto-lubricated foil feeder.
1.2 Length controller.
1.3 Control Panel.
1.4 Pneumatic punch.
1.5 Automatic stacker.
1.6 Foil scrap aspirator system.
1.7 Foil scrap baler system (option).
Machine adopts PLC as the controlling system, the feeding length, producing speed and other parameter are easily set, this integration of Air pressure& Electrical centralized control, automated production. 
2. CHOCTAEK aluminum foil container making machine parameter :
| | |
| --- | --- |
| Strokes | 35-65 times/ min |
| Total weight | 4.5 Ton |
| Motor Capacity | 9KW |
| Voltage | 3-380V/ 50HZ/ 4 Wires |
| Press Dimension | 1.2*1.8*3.3M |
| Expansion Shaft | Φ3 inch/ 6 inch |
| Max. Foil Roll Out Dia | 800mm |
| Max. Foil Width | Φ700mm |
| Length of Stroke | 220mm(custom-made 200/250/280mm) |
| Working Table Dimension | 1000*1000mm |
| Max. Mould Dimension | 900*900mm |
| Mould Closed Height | 370- 450mm |
| Slide Area Dimension | 320*245 4- Φ18 |
| The Whole Production Line Space | 8*3*3.4M |
| Air Consumption | 8*3*3.4M |
3. CHOCTAEK' s machine advantages:
3.1 The coil can be supported by 3" or 6" expansion shaft according to deferments requirement. And The lubricate oil tank is included in the feeder which could lubricate automatically.
3.2 The operating control panel is equipped with a touch screen (SIEMENS) allowing quick set up of machine parameter and visualization of production flow.
3.3 A control panel is installed with PLC with memorial function, which can memorize all parameters. And it will save time for setting up of moulds.
3.4 The height of the feeding system is adjustable to match the strip height of the mould currently in use of the press. The length controller can control the feeding step and speed accurately.
3.5 A strong mould lifter is equipped in machine, so it is easy and convenient to load and unload a new mould.
3.6 The machine is equipped with two Compressed air tanks. Then pneumatic control is easily accessible during operation of press.
The press can be equipped with moulds for both winkle-wall and smooth- wall container production.                  
4. Our customer's factory with CHOCTAEK machine: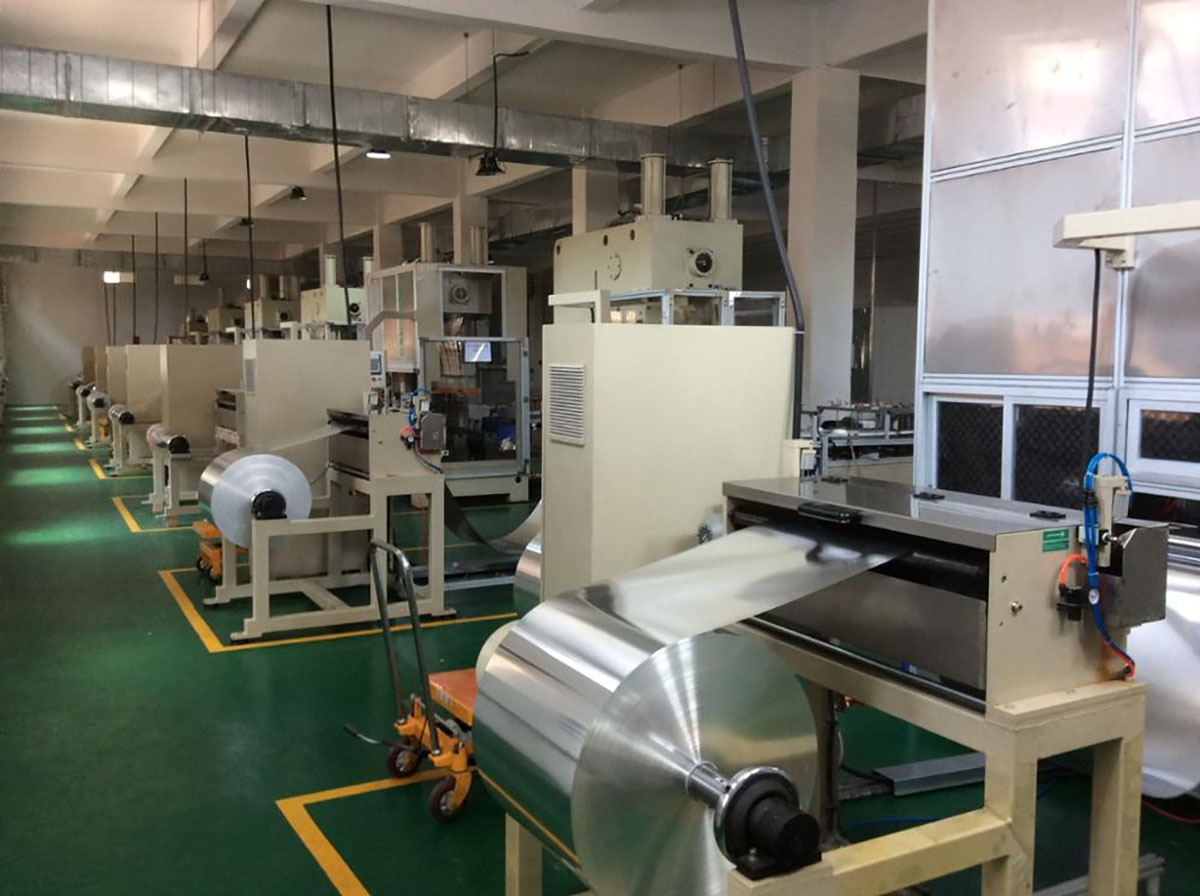 1. Q: What is number of the Max. Mould cavities?
A: It depends on the container size and shape. Such as 450ml, the Max. Mould cavities is 3 on C1000 aluminium foil tray machine.
2. Q: What is the capacity?
A: It depends on the container size and shape. Such as 450ml, the capacity is about 45pcs/minute*3mould cavities=135PCS.
3. Q: What is the thickness?
A: thickness from 0.035-0.3mm is workable on our aluminium foil container making machine and mould.
4. Q: How much space is required for aluminum foil container business.
A: The small setup of this aluminum foil container unit requires 1000 sqft.
Space is required to locate the machine and stock the aluminum foil bundle in the ground foolr. It is also for packaging the output pieces into boxes or cartons. And finally, workers to work comfortably.So, for all this, you will at least need 1000 sqft appx.
5. Q:Total Investment to start this aluminum foil business.
A: Semi- automatic machine cost= USD45000- 62000/ set.
Aluminum Foil = USD2900/ ton.
Aluminium foil container making mould= USD8000- 22000/ set.
Please feel free to call us when you are interested in Aluminium Foil Container Making Machine and Mould project.
E-mail: essia@choctaek.com
WhatsApp:0086 18927205885


---
---
Write your message here and send it to us